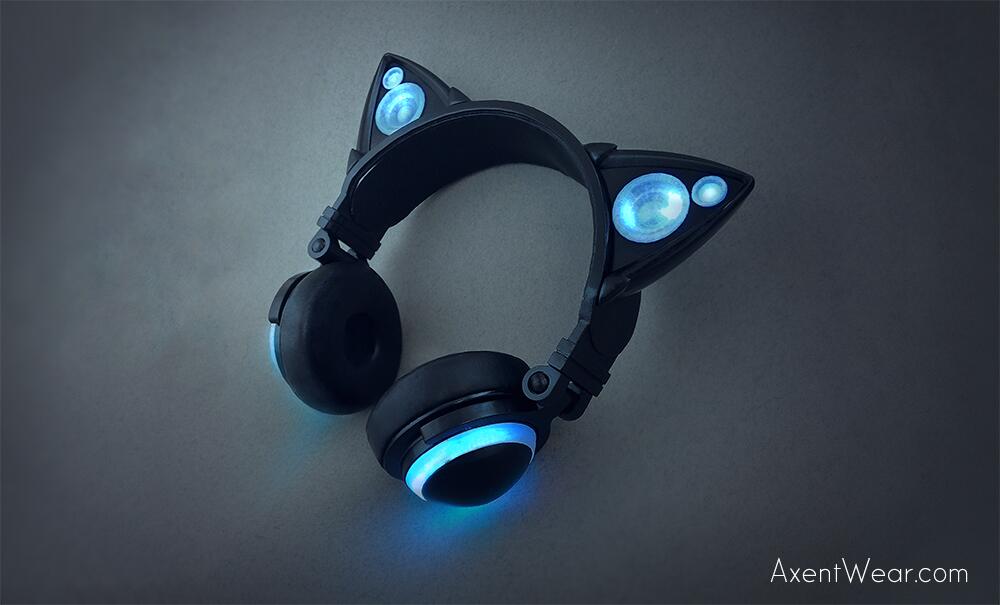 The one and only unique headphones that has been created to attract people to this new piece of technology, is the Axent Wear headphones! This is an external device to hear an output from the device you are using through these newly produced headphones that are fascinating to use and learn about. Not only does it blast music, it also glows the colour you have chosen, to make you feel like you listen to your music in style.This originates from two females who have thought outside the box, and tried to satisfy their audience with an incredible device, called the Axent Wear.
The Axent Wear was created by
UC Berkeley Alumni, Wenqing Yan, and Victoria Hu, all of them have a desire for creative technology, and art. They teamed up to create these cat ear headphones, with the idea of Wenquig, and Victoria they asked themselves, since music played a huge part in most people's lives and it would be great if they can share their music with the people surrounding them, they came up with the cat ear headphones. The music can be heard through speakers and through the headphones this can be achieved by the cat ears, they are external speakers to share the music your are currently listening to with the people around you, or like usual u can listen to it yourself.
Advantages and disadvantages
The headphones have many fascinating features such as, the external speakers that look like cat ears, the comfortable cushion around your earphones so it is relaxing when you to listen the music, the vibrant LED lights, rechargeable battries, and the Axent Wear also provides you with a mic, that is attached to the cord. There are also switches to both the LED lights, and the external speakers. Although there is a problem with the Axent Wear, it is not wireless and Bluetooth, because when they were asking what features you want on the Axent Wear majority of the people chose everything else but the wireless and Bluetooth. The LED light also does not convert itself into different colours, and remains the same colour until the end.
In my opinion I suggest buying the Axent Wear since I personally love to listen to music and I sometimes carry around a smaller speaker to put it on louder at times. If i bought the headphones it comes with a external speaker that is attached to it and it also has a mic that comes with it, if i were to ever use it to communicate with someone. I have never seen any headphones that have built in speakers, and so i cannot compare it with any other technology that i have used or heard about. Although this is a great indictor that technology is growing in a way that just one device has multiple tasks that can be accomplished.
Questions and where to purchase it
The Axent Wear is available at the Indigogo website, for $150.00 up to $10K, being the maximum. If there are any problems consulting the Axent Wear you can contact their service at
hello@axentwear.com
.